You have selected
HTC C110e Radar
Select another device
All the tutorials
HTC
C110e Radar
Internet
Automatic configuration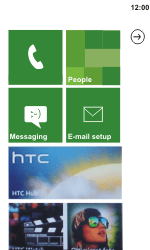 The HTC Radar will be provisioned autimatically with the right settings upon first usage with the Tango SIM card.
To verify this, open the web browser and go to http://www.google.co.uk/.
If this doesn't work, go to Internet manual configuration for instructions how to set up your device for use of mobile internet.